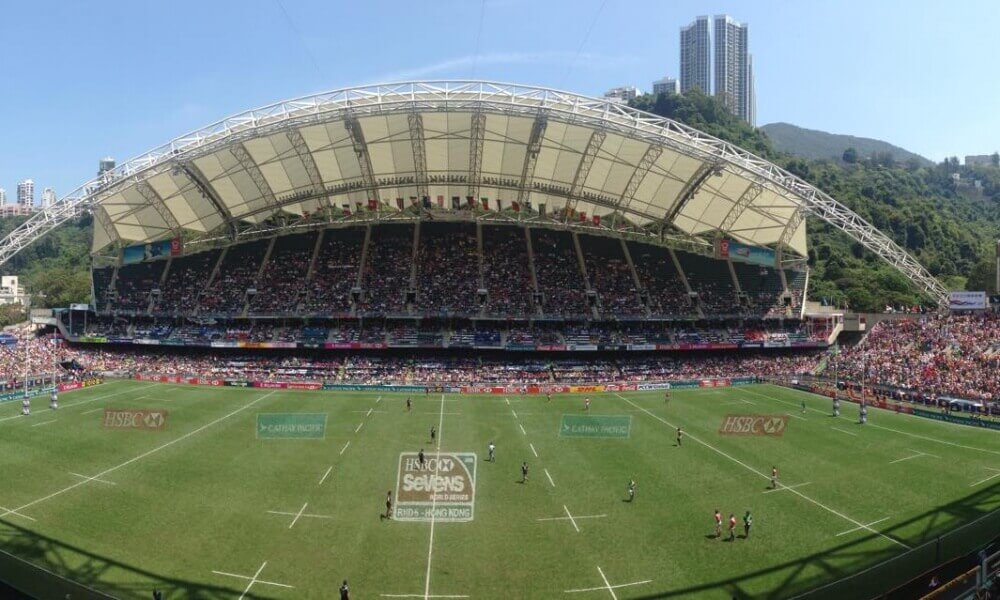 8:30pm AEST – AUSTRALIA 26 DEFEATED USA 19
HONG KONG – Australia have secured a third-place finish behind Champions Fiji and Runners-up South Africa with a 26-19 win over the United States of America.
Head coach Andy Friend thrust every youngster he could find into the starting team and could only sit back and watch as they made short work of the U.S. defence.
With only one player older than 21 in the team, the Baby Aussies dominated possession to produce two tries inside four minutes.
The United States hit back against the run of play to shore up a 14-7 halftime scoreline that flatters.
X-factor speed and offloading sent the U.S on an 80m to pull even closer through Ben Pinkleman and Perry Baker, but further tries to Tim Anstee and James Stannard secured the result on full-time.
Henry Hutchison was the tournament leading try-scorer.
Australia's third place finish (17-pts, 79 overall) was not enough to eclipse the USA (82 points) in the overall standings but cut the deficit to just three-points ahead of next weekend's Singapore event.
5:30pm AEST – AUSTRALIA 12 DEFEATED BY FIJI 33
HONG KONG – Fijian flare has again sunk Australia at the Hong Kong Sevens, charging ahead 33-12 to book a place in the Grand Final with South Africa.
Australia bowed out in last year's Semi-Final in similar circumstances, going down 33-5 to a Fijian team months away from winning Olympic Gold.
That same class shone through today as Fiji's brightest put the mistakes of an understrength Australia to the sword.
Former captain Ed Jenkins was the sole member of the Australian set-up to face media commitments post-match.
"Yeah it's very disappointing and the boys are gutted," Jenkins said. "I thought we'd been playing really good footy over the last two days and that performance wasn't up to scratch.
"We let them off to great start and it's almost impossible to reel in a Fijian side with 26-pts over the top of you.
"We slipped off way too many one-on-one tackles there and it was too hard to chase them down from there.
"We had a bit of ball and were able to score a few points at the end there but in the first half we just gave up way too much pill and made it very hard on ourselves.
"I think this tournament will build a lot of confidence for the young guys.  The team's building nicely and the young guys coming into the team are adding a lot to this team. Hopefully we can continue to build on it, and we've got one game to go," Jenkins concluded.
Even the most casual fan in attendance knew Australia would need to control possession and play error-free football to stand a chance against one of World Rugby's most dangerous challengers.
That would prove easier said than done, as an early dropped ball was returned 70m to put Fiji ahead 7-nil in the second minute.
Fiji had crossed for their second try with only a single ruck formed after three minutes, testament of their ability to keep the ball alive in attack.
Fiji's third try, in the 5th minute, never saw the ball touch the ground as dazzling footwork trapped Tom Lucas like a rabbit caught in the headlights.
Australia were able to deny Fiji a try on first phase ball for just the second time of the half; showing great tenacity to hold Fiji out until third phase.
Trailing 26-0 to begin the second half, the match was well and truly over.
Nevertheless Australia rallied, crossing on the left wing through Charlie Taylor to cut the deficit to 21-pts.
2016 Australian U20s winger Liam McNamara eked Australia even closer, busting a tackle on the goal-line to score between the posts with a minute to go.
Fiji's ability to score from anywhere shone again with a long range strike upon full-time taking the final score to 33-12.
The victors move on to face a South African side pushed to the brink in an extra-time win over the United States, 29-24.
Australia will face those same Eagles at 8:30pm AEST.
2:12pm AEST – AUSTRALIA 21 DEFEATED ARGETINA 12
HONG KONG – Australia have defeated Argentina 21-12 in the Cup Quarter-Final at the 2017 Hong Kong Sevens, guaranteeing a worst-case scenario fourth-place finish in Hong Kong.
The three-tries to two victory sets Australia on a collision course with Sevens superpower Fiji in the Semi-Final.
The win comes at a cost as centre John Porch aggravated a prior leg injury while forward Boyd Killingworth has been ruled out of the tournament with concussion.
Killingworth dusted off his sprinting boots with a runaway try before clashing heads with substitute Nick Malouf in the final minute of the match
Captain Tom Lucas didn't see the clash but was disappointed that the popular forward would miss the remainder of the tournament.
"I didn't really see what happened but I heard [Killingworth's collision] and it's pretty loud out there already. He scored a great try today and he shows off that clean pair of heels pretty regularly so it's disappointing for him to miss the rest of the tournament.
"[John Porch] was under an injury cloud heading in to the tournament but knowing him, he'll be right. He's a tough guy and where else would you rather be than in the Semi-Finals at Hong Kong? It'll take more than that to rule him out."
In a common theme throughout the tournament, Australia were again forced to work hard to convert their opportunities into points.
Former Captain Ed Jenkins, playing his 50th career tournament this weekend, bobbled a bouncing ball to knock-on over the line in the opening minute.
Argentina made Australia pay, blasting James Stannard off the breakdown in midfield before spreading wide to score the match-opener in the third minute.
Porch won a key pilfer as time ticked down to zero for the half, offloading to Killingworth to streak away 50m to level scores at 7-all.
Henry Hutchison's right corner welcomed back it's favourite try-scorer in the 9th minute from a simple set-piece move.
Captain Lucas sealed the Quarter-Final win with a trademark dummy slicing open the Argentine defence from short range.
Killingworth's head clash sent the front-rower tumbling to the deck, opening space for Argentina to exploit for a consolation try on full-time.
Looking ahead to Fiji, Lucas admitted that no team could claim to know the secret to stopping their high-powered attack.
"We've got to focus on the gameplan that's gotten us this far; Tackling, pressure, getting up in their face and putting them off their game.
"We've been working a lot on being one step ahead of the game.
"If there was one spot in our game that has let us down all year it's been our execution and being clinical," Lucas said. "We've really stepped that up in Hong Kong and the result has shown thus far."
Australia will take on Fiji at 5:31pm AEST for a spot in the Hong Kong Sevens Final against either South Africa or the United States.