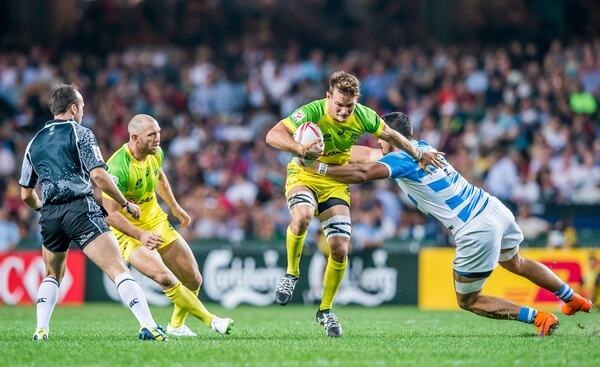 4:44pm – AUSTRALIA 12 DEFEATED ENGLAND 10
Australia have defeated England 12-10 in the final match of Pool A at the 2017 Hong Kong Sevens to secure top seed ahead of the Cup Quarter-Finals.
In a battle that pitched crowd favourites England against their very public enemies, Hong Kong's favourite bad guys triumphed again to continue Australia's undefeated run at the tournament.
The transition of 20-year-old Henry Hutchison from the wing into the halves continued to bear fruit for the coaching staff as the speedster crossed for both tries in the key win.
Head coach Andy Friend was impressed with his side's tenacity, particularly in defence, but acknowledged that going undefeated in the Pool Stages meant little without improving again tomorrow.
"If I was sitting up there in the stands I'd be thinking, 'Gee that's some really good rugby' – from both teams," Friend said.
"If you let them [England] will hurt you, but we got up in their face, didn't allow them to play and forced their hand with turnovers.
"We're happy with that performance, but it's one thing to win the pool and that doesn't win you Hong Kong."
Both sides wrestled in stalemate in the first half before England's ill-discipline sent referee Damian Schneider reaching for the pocket.
Hutchison capitalised on the yellow card of English captain Tom Mitchell immediately, diving over in midfield to open scoring with under a minute remaining in the first half.
England found time to hit back, lofting a kick out of their 22m and chasing down successfully to score through Tom Bowen on half-time.
An English forward pass, under pressure from the defence, granted Australia the platform to send Hutchison barrelling down his favourite right wing to score his fourth try for the tournament in the 10th minute.
In classic English fashion, Tom Bowen required just one mistake to run home another long range try with 90 seconds remaining.
An unsuccessful conversion kept Australia's nose just ahead, but England were back pressing the defence.
With the game hanging in the balance, a well executed pilfer from 20-year-old substitute Simon Kennewell won a penalty as full-time approached.
Australia retained possession and thumped the ball into touch to seal an undefeated Pool A run, booking a Cup Quarter-Final showdown with the Pool D runners up Argentina.
Argentina defeated Scotland (22-14) and Russia (14-12) before falling to USA (33-5).
12:07pm – AUSTRALIA 52 DEFEATED SOUTH KOREA 0
Australia have locked up a Cup Quarter-Finals berth at the 2017 Hong Kong Sevens with a 52-0 statement win over South Korea.
The team showed the killer instinct that has so often been found missing in the Hong Kong tournament, slamming eight tries through a lacklustre Korean side.
Budding superstar Lachie Anderson, aged just 19 and playing his fourth tournament, crossed three times in the first half to lead 19-0 at the break.
Australia were just as ruthless in the second, adding points at a rate of four-per-minute in a declaration of rugby firepower.
The successful deployment of an umbrella defensive pattern starved Korea's wide attacking game of opportunities, forcing the underdogs to run into the teeth of a physical defensive unit.
The Koreans were at times their own worst enemy as a litany of small errors added fuel to the blazing Australian attack.
Captain Tom Lucas featured prominently, involved in four of Australia's tries and finishing another himself.
Elder statesmen James Stannard scored two tries and converted 6/8 in a marked improvement from a lowly 25% success rate in last night's 22-19 win over Samoa.
Australia play England at 5:40pm AEST in what will be the Pool A decider following England's 12-10 win over Samoa.